Apexmfg rear stand spools for 6mm or 8mm bolts available in silver or black. Please specify size and color.
Apex Portable Worktable light weight at only 38 lbs.
Holds up to 800 lbs.
Legs fold away completely for a 2.5 inch height during transportation.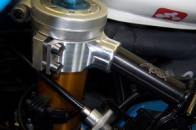 The Apexmfg GP clip-ons were designed for use by Jason Disalvo.
Machined from 6061 billet aircraft aluminum, anodized black. 100% Satisfaction Guaranteed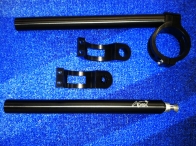 The Apexmfg standard adjustable clipon comes in 50mm - 53mm
Chain guard 675R, 675 Daytona, 06'-12', $45 with hardware, includes UPS ground shipping.
Brake lever guard and a generic 7/8" replacement bar that fits after market racing clip-on clamps
The Apexmfg brake/clutch lever guard is sold individually. These specifically fit our bars with a 3/4" ID. They can fit most other after market or OEM bars simply by making the ID 3/4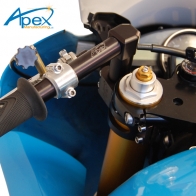 Apex Riser Clip-ons are among the most versatile clip-on available to create optimal riding performance for all types of riding.
The unique design allows for simple installation and maximum adjustability so you can spend more time riding in comfort. This set includes everything you need for 1 motorcycle!
Copyright MAXXmarketing Webdesigner GmbH